REAPERS REIGN MC SERIES
BOOK FOUR
Date Published:
January 20th,
2021

💀 𝑊𝑒 𝑚𝑒𝑡 𝑖𝑛 𝑎 𝑛𝑖𝑔𝒉𝑡𝑚𝑎𝑟𝑒 𝑡𝒉𝑎𝑡 𝑤𝑎𝑠 𝑚𝑦 𝑙𝑖𝑓𝑒.

𝑇𝒉𝑒 𝑖𝑛-𝑏𝑒𝑡𝑤𝑒𝑒𝑛 𝑤𝑜𝑟𝑙𝑑 𝑤𝒉𝑒𝑟𝑒 𝑡𝑖𝑚𝑒 𝑤𝑎𝑠 𝑚𝑦 𝑒𝑛𝑒𝑚𝑦 𝑎𝑛𝑑 𝑖𝑡 𝒉𝑒𝑙𝑑 𝑠𝑜 𝑚𝑢𝑐𝒉 𝑝𝑜𝑤𝑒𝑟 𝑜𝑣𝑒𝑟
𝑚𝑒.

𝐴 𝒉𝑦𝑝𝑛𝑜𝑡𝑖𝑐 𝑔𝑙𝑎𝑧𝑒 𝑜𝑓 𝑓𝑖𝑟𝑒 𝑎𝑛𝑑 𝑖𝑐𝑒.

𝑊𝑒 𝑚𝑒𝑡. 𝑊𝑒 𝑠𝑡𝑎𝑟𝑒𝑑 𝑖𝑛𝑡𝑜 𝑒𝑎𝑐𝒉 𝑜𝑡𝒉𝑒𝑟'𝑠 𝑒𝑦𝑒𝑠. 𝑊𝑒 𝑘𝑛𝑒𝑤. 𝑊𝑒 𝑓𝑒𝑙𝑡. 𝑊𝑒 𝑤𝑒𝑟𝑒 𝑑𝑒𝑠𝑡𝑖𝑛𝑒𝑑
𝑡𝑜 𝑏𝑒.


𝐵𝑢𝑡 𝑚𝑦 𝑤𝑜𝑟𝑙𝑑 𝑤𝑎𝑠 𝑜𝑛 𝑓𝑖𝑟𝑒. 𝐴𝑛 𝑖𝑛𝑓𝑒𝑟𝑛𝑜, 𝑎 𝒉𝑒𝑙𝑙 𝑠𝑜 𝒉𝑜𝑡 𝑒𝑣𝑒𝑛 𝑡𝒉𝑒 𝑑𝑒𝑣𝑖𝑙 𝑠𝑡𝑒𝑝𝑝𝑒𝑑
𝑏𝑎𝑐𝑘.

𝑆𝒉𝑒 𝑤𝑎𝑠 𝒉𝑖𝑑𝑖𝑛𝑔 𝑖𝑛 𝑡𝒉𝑒 𝑑𝑎𝑟𝑘 𝑡𝒉𝑎𝑡 𝐼 𝑏𝑟𝑒𝑎𝑡𝒉𝑒𝑑 𝑖𝑛. 𝐿𝑖𝑣𝑒𝑑 𝑖𝑛. 𝐵𝑎𝑡𝒉𝑒𝑑 𝑖𝑛.

𝑇𝒉𝑒 𝑛𝑖𝑔𝒉𝑡𝑚𝑎𝑟𝑒𝑠 𝑏𝑒𝑐𝑎𝑚𝑒 𝑜𝑢𝑟 𝒉𝑜𝑚𝑒 𝑎𝑠 𝑜𝑢𝑟 𝑠𝑖𝑙𝑒𝑛𝑡 𝑤𝑜𝑟𝑙𝑑 𝑠𝑝𝑜𝑘𝑒 𝑙𝑜𝑢𝑑 𝑡𝑜 𝑒𝑎𝑐𝒉 𝑜𝑡𝒉𝑒𝑟.


𝐺𝒉𝑜𝑠𝑡𝑠 𝑡𝒉𝑎𝑡 𝑛𝑒𝑣𝑒𝑟 𝑙𝑒𝑓𝑡 𝑢𝑠 𝑏𝑒𝑐𝑜𝑚𝑒 𝑙𝑜𝑢𝑑𝑒𝑟 𝑎𝑛𝑑 𝑚𝑜𝑟𝑒 𝑝𝑟𝑒𝑠𝑒𝑛𝑡 𝑎𝑠 𝑤𝑒 𝑡𝑟𝑖𝑒𝑑 𝑡𝑜
𝑒𝑛𝑡𝑤𝑖𝑛𝑒 𝑡𝑜𝑔𝑒𝑡𝒉𝑒𝑟.

𝑙𝑜𝑣𝑒 𝑏𝑒𝑐𝑎𝑚𝑒 𝑚𝑜𝑟𝑒 𝑡𝒉𝑎𝑛 𝑎 𝑓𝑎𝑛𝑡𝑎𝑠𝑦 𝑎𝑠 𝑤𝑒 𝑓𝑒𝑙𝑙 𝑎𝑛𝑑 𝑓𝑒𝑙𝑙 𝒉𝑎𝑟𝑑. 

𝐹𝑙𝑒𝑒𝑡𝑖𝑛𝑔 𝑠𝑒𝑐𝑜𝑛𝑑𝑠 𝑜𝑓 𝑛𝑖𝑔𝒉𝑡𝑚𝑎𝑟𝑒𝑠 𝑏𝑒𝑐𝑎𝑚𝑒 𝑎𝑙𝑖𝑣𝑒 𝑎𝑛𝑑 𝑚𝑜𝑚𝑒𝑛𝑡 𝑦𝑜𝑢'𝑟𝑒 𝒉𝑎𝑝𝑝𝑦 𝑐𝑜𝑢𝑙𝑑
𝑙𝑖𝑣𝑒. 𝑏𝑢𝑡 𝑡𝒉𝑒𝑛 𝑤𝑒 𝑤𝑜𝑘𝑒 𝑢𝑝.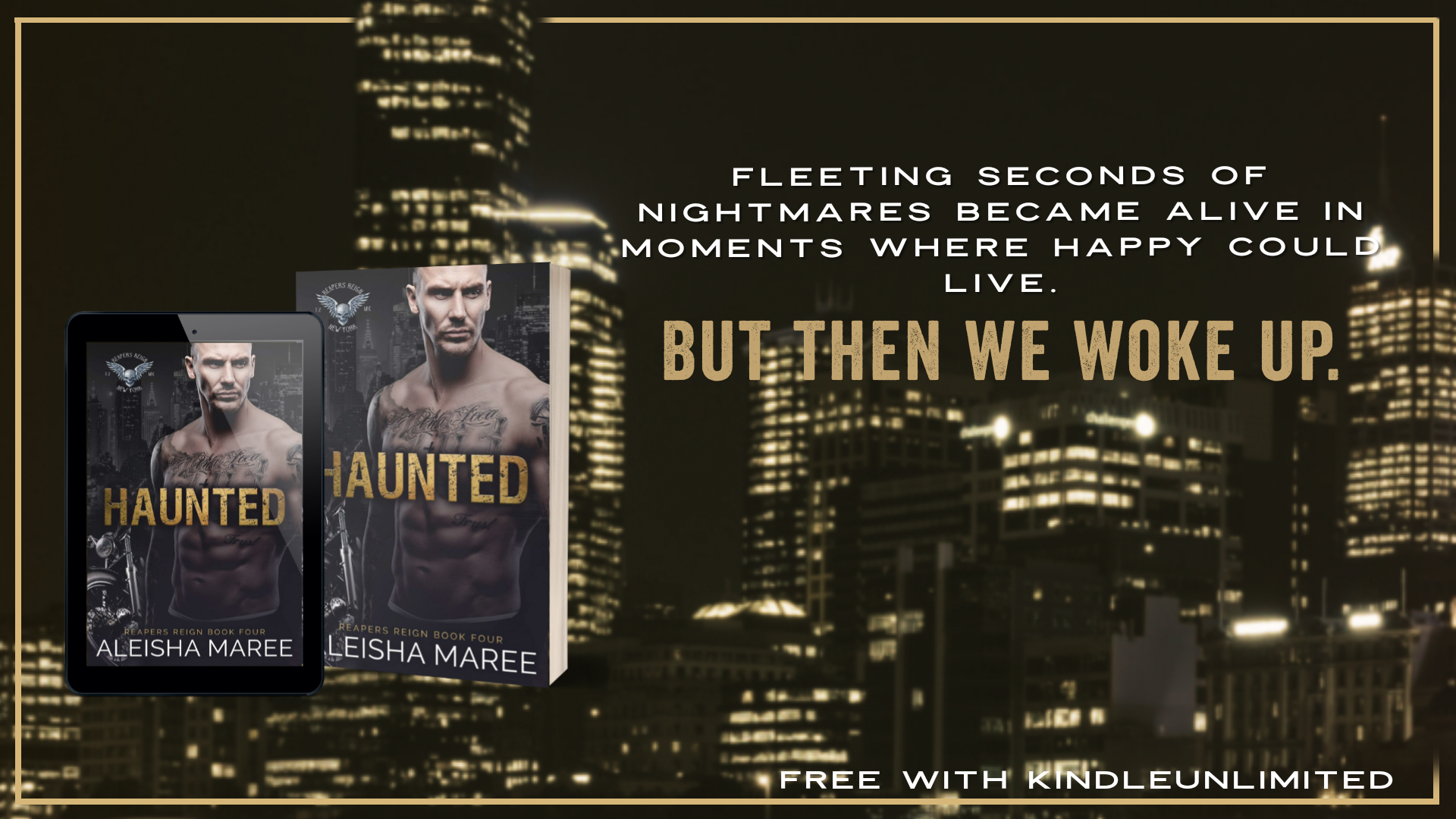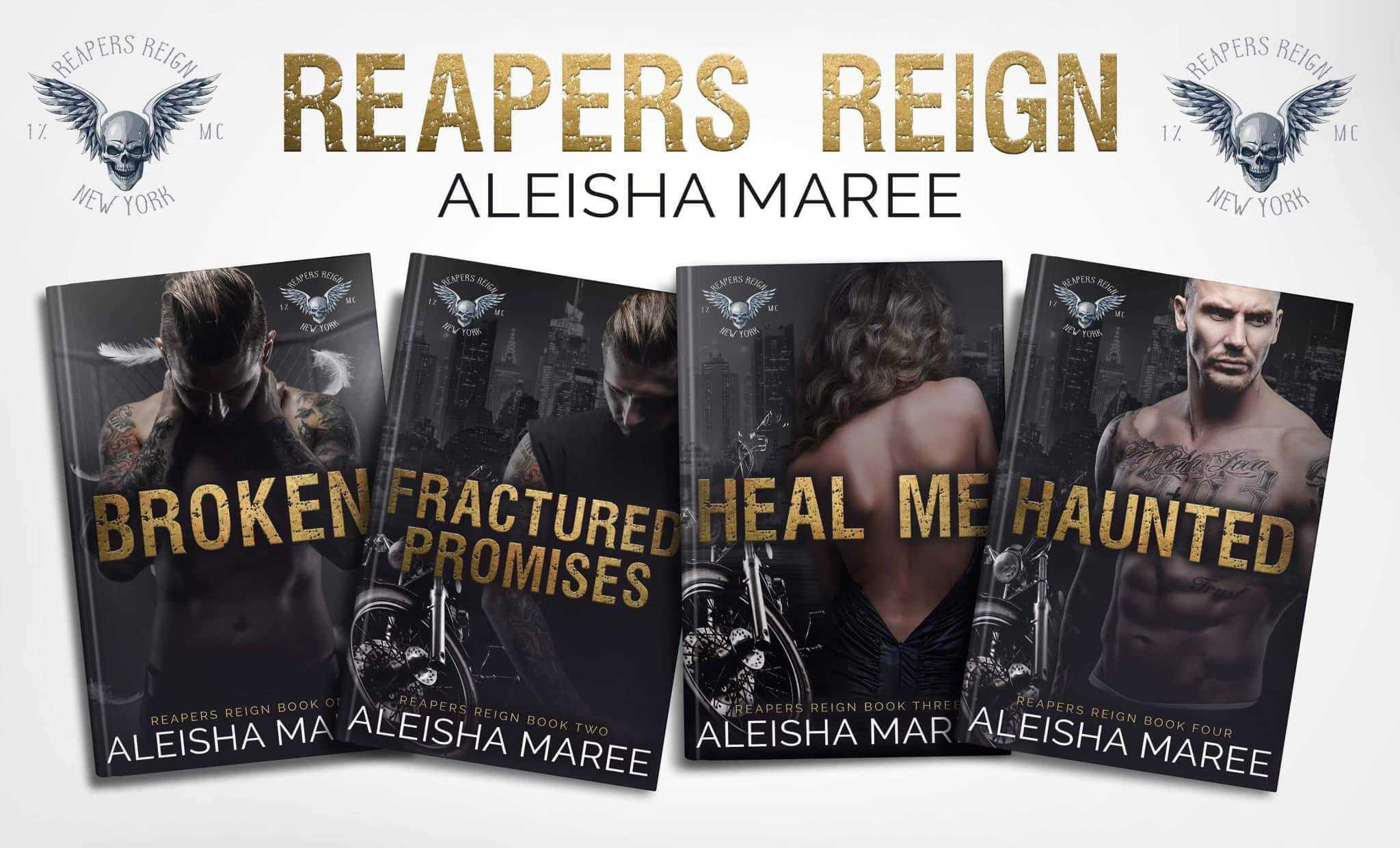 Review
I absolutely love this cover. It is beautiful!
I'm a sucker for a good MC Romance and once I start a MC series, even if I start in the middle, I have to go back and see how the other couples got together.
The world Aleisha Maree has created is so vivid and really helps the reader feel like they are there with the characters.
A strong and fast paced plot kept me on my toes. I loved the main characters, but I also loved everyone who surrounded them.
The characters, plot, and pacing were all spot on and really helped to elevate the novel. A superb MC Romance. Now to go back and read the others!
About the Author

I'm a Wife and a mum to 6 wonderful children. I'm from New Zealand and live in
a cute little village called Wharepapa South in the North Island but I was
born and bred in Nelson in another cute village called Wakefield in the South
Island of New Zealand.


I love coffee and cake way too much. I'm addicted to sour Skittles and writing
some pretty badass books if I do say so myself.


My writing varies between genres – such as the Mafia and MC worlds but I also
write 'real life' stories filled with angst and pleasure.

Contact Links
Email – Aleishamareeauthor@gmail.com
Purchase Links
Amazon